"Mummy, what world record shall I break?"

"Well darling, you could try sitting in a bath of beans... Or maybe remembering pi to a certain number of places... Or well, you could even train for years as a top athlete and try to set a record in one of the semi-useful things like running or swimming, something like that."

"What if I just put a load of snails on my face?"

"Um, that might do it too..."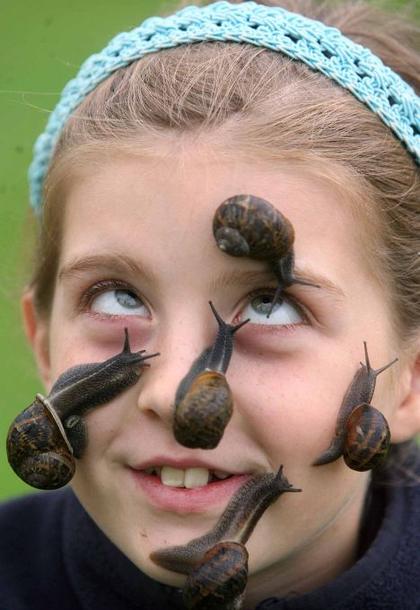 I saw this on Boing Boing and was totally grossed out. Ricky Gervais talked about bizarre world records in one of his podcasts ("If you can run 100m backwards in 12 seconds then turn around, because I think you could run it forwards pretty quick too!"), but this takes the cake, it really does. Just... Why? The original story was posted on the Daily Mail website, and in it the girl describes the sensation but not the why behind doing it. The picture I've put in here is OK, but you'll have to go and look on the Daily Mail for the picture of her with all 25 snails on her face.

...

Guiness World Records have rules covering people putting snails on their face. Think about that!